My mom gifted me a Fabric Steamer a few years back and it literally changed my life! I've never been one to iron my clothes and I hate having to constantly dry clean everything so the steamer is perfect for me. Let me tell you why it's perfect for you!
A lot of our clothes are dry clean only but don't always need dry cleaning after just one or two wears. I like to wear something then mist it lightly with Febreeze (mist NOT spray). Once it dries, I will steam all the wrinkles out and it's good to go!
When you are steaming your dresses, be sure and take the steamer head underneath as well as on top of the garment. Be very careful when you are on top of the garment not to touch the steamer head to the garment (especially if it is silk). Just float it about an inch over whatever you are steaming. The steamer works great for shirts, pants, skirts and dresses as long as you buy one that is quality!
My Recommendation
The Jiffy Steamer is the mack daddy of all steamers! It is what they use in retail stores and is mostly for commercial use. Its more expensive but does such a better job at getting even the toughest wrinkles out. You can google Jiffy Steamer and find them anywhere inlcuding Amazon, Ebay and Overstock for $180 and under. If this is beyond your budget, check out this Conair steamer that is similar with 1300 watts and only $80 bucks!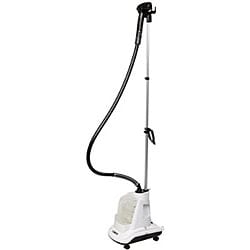 Steaming is quick and easy so remember all the time you will save by not having to drag out the ironing board and hover over it forever. Most importantly, don't forget about the money you will be saving on dry cleaning bills!
Anything that can save me time and money is a solid investment!
~Happy Steaming~
Beaucoup D'Amour,
Megan