I was purchasing some
Moroccan Oil
products at my favorite store
Stella Nova
and while complaining to the girls how much I wish
Moroccan Oil
would come out with a detangler, they recommended a brush that would change my life. They were right! This 7 dollar brush has been life changing for me.
It's called
The Wet Brush
and the packaging nor the actual brush look like anything special. I was proved wrong the first time I used this brush after I got out of the shower. Normally I have to spray a lot of detangler (leave in conditioner) on my hair before I brush it out. It is not a fun process. I have lots and lots of fine hair so it gets very tangled and matted. It's like a workout brushing this crazy mane of mine out. So with this new life changing brush I decided to try it without using any detangler and I was blown away! It literally brushed right through my crazy tangly hair easily and this process that I dread so much everyday was magically fixed. All by a 7 dollar brush called
The Wet Brush
. Seriously. Buy one ASAP if you are a poor tangly haired girl like me.
The other product that I recently discovered and am obsessed with is
Shea Moisture
Raw Shea Butter Lotion and Wash.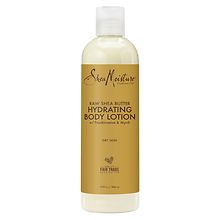 I gave these products a shot after searching at
Target
for an all natural body wash and lotion. My skin is very sensitive and lately it seems like the Dove or Oil of Olay body washes break me out. I think it's all the fragrance in them. These
Shea Moisture
products are all natural 100% Raw Shea Butter and they also include some oils that make your skin so soft like Jojoba and Coconut Oil. The best part is the smell. I've noticed I haven't even been wearing my fragrance lately because I love how this stuff smells so much! It is super yummy and feels so good on your skin. It's only 9 bucks too which I think is great for organic body products. This is a MUST try and you can find these products at
Target
(look on the aisle where they sell burts bees and other higher end body products) and
Walgreens
in a variety of scents and options but I'm telling you this shea butter smell is the BEST!
Beaucoup D'Amour,
Megan